2014: The Journey Continues
7,400,000 steps (over 3,700 miles) later, we continue to tell Nathaniel's story. One pilgrimage has morphed into another, and the legacy of miles has had its impact. More people know about BDD and OCD and are willing to seek help, share stories, and support each other. When we walked the Camino de Santiago in the spring of 2011 after Nathaniel died, Judy, Carrie, and I knew that our journey in Spain was only the beginning, and our commitment to raise awareness has not diminished since. We are humbled by the unanticipated ways that Nathaniel's story has spread.
This winter and spring, my daughter Carrie was selected to join the Samaritans Team to run the 2014 Boston Marathon. Her commitment to the project never faltered despite a relentless winter that tested her resolve. She did not back down. If running was her brother's passion in life despite his illness, then she would run these 26.2 miles to honor him at his game. Her weekly blogs described her rigorous training routines, the capriciousness of the New England winter, and the inner landscape of her emotions during her long runs. Judy and I monitored her progress, admired her fortitude, and did what parents do best–love their children as they journey forth.
A mere two weeks before the race, Carrie slipped in stocking feet on the wrought iron staircase in her apartment and badly fractured her big toe; running was in an instant no longer an option. Despite this devastating disappointment and sense of incompletion in being unable to finish a herculean task that she was more than ready for, Carrie rallied for her teammates on race day and cheered them from the sidelines. As I stood by her side on Heartbreak Hill (mile 21), I knew that our choice of location was poignant not only for the runners. Her heart needed mending too. She joined the race with teammate Katy for half a mile, broken toe be damned.
On June 7, the 1 Million Steps 4 OCD Awareness Walk will take place at Jamaica Pond in Boston. I like to think that our collective walking and running steps — Judy's, Carrie's and mine — have helped shape this annual event for the International OCD Foundation. The work is not yet over, and that is why we need to gather as a community of people impacted by BDD and other related brain disorders. Will you join us? Here's how. Support the "Walking with Nathaniel" Team or start your own. Walk in reality with us that day or virtually in your own community to get the word out, raise needed funds for research and programs, support sufferers and their families, and remove the stigma associated with these disorders.
Nathaniel didn't choose his illness, but he walked it with courage. Let's do the same to help others. Buen Camino!
2013: Nathaniel's spirit lives on

Who could have anticipated that when I took over a million steps last spring to get from Cheyney, PA to Boston in honor of Nathaniel and to raise awareness about BDD and OCD, that my experience would reap so many rewards? I talked with 250 people en route, received support from hundreds of donors, and raised over $30,000 for the International OCD Foundation. We have met and talked with many courageous families who have also been ravaged by these cruel disorders.
Building on the success of my walk last year, the International OCD Foundation has launched a nation-wide campaign "1,000,000+ Steps for OCD Awareness" – a walk that will encompass supporters from across the county, culminating in a 5K walk in Boston on June 8. Our country walks annually for Aids, Diabetes, and Breast Cancer, because people still suffer from these illnesses. It is no different for OCD and BDD which continue to disrupt the lives of sufferers, their families and their friends. Until there is greater awareness of these disorders and more effective treatment or a cure, there is work to be done.
On the second anniversary of Nathaniel's death, the void of his absence still profoundly affects our family and his friends. We miss him, and we want his life to matter. I thought last June I would be finished walking, but clearly the journey to find meaning and solace has only just begun. As part of the "1,000,000+ Steps for OCD Awareness," I will start a new pilgrimage this May – "Walking With Nathaniel South" from Cheyney, PA to Washington, D.C. I am thrilled to be adding 920,000 steps more to this important cause.
Will you join Nathaniel and me? Together we can take millions of step and dare to believe that something can change because of our collective efforts. Walk with me literally, or virtually through my blog, or create your own local team or join ours, or stroll with us around Jamaica Pond in Boston on June 8, 2013. Buen Camino!
THE INSPIRATION
When a spiritual seeker once asked the Buddhist teacher Thich Nhat Hanh how to recover from the loss of her son, he pondered awhile, then answered, "Walk!" On April 15, 2011, my 24-year-old son Nathaniel took his own life after a 13-year struggle with BDD (Body Dysmorphic Disorder). This devastating illness robbed the world of a magnificent human being; Nathaniel was fiercely intelligent, unfailingly kind, and universally loved. He could make other people laugh like no one else. As my wife Judy, daughter Carrie, and I grappled with the injustice and enormity of our loss, we took Thich Nhat Hanh's advice. We flew to Spain and walked the ancient pilgrimage route, the Camino de Santiago, to grieve and to honor Nathaniel's life. While in Spain, I caught "Camino Fever" and developed symptoms back home––the irresistible urge to walk. During these peregrinations the "Walking with Nathaniel" project was born.
See a gallery of the Camino de Santiago Pilgrimage
THE WALK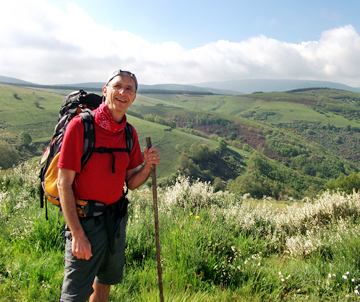 From April 24 to June 7, 2012 a second pilgrimage from my front door in Cheyney, PA took me to Boston, MA, home of the International OCD Foundation. The 500-mile route included stops at hospitals, clinics, doctors' offices, and treatment facilities that were part of Nathaniel's journey, as well as places of joy such as The Bryn Mawr Birth Center, Goshen Friends School, The Shipley School, Westtown School (where he was a student, teacher and coach), and the Good Fellowship Ambulance and EMS unit where he often volunteered.
THE GOAL
I walked to raise awareness about BDD and to generate funds for desperately needed research. By finding better treatment, we can offer to others the hope that Nathaniel needed and so richly deserved. To support the walk, friends and family created their own events, some joined me on short segments of the walk, and many contributed to the OCD Foundation to transform Nathaniel's suffering and our family's pain into new possibilities for others.
Let the cry of the Camino pilgrims be ours, "Ultreya!" ("Let's go for it!")