It's already two days after the walk (Monday, June 10) and I feel as if I am still in dreamland. Everything happened so fast. My Camino mind had difficulty adjusting to the new pace. However, the Friday night Terramia Restaurant Italian feast in Boston's North End brought Judy, Carrie, and me together and fortified us amply for the Saturday Walk at Jamaica Pond. Let's see if I remember some of the details.
We get up early after my collapse from the night before after blogging past midnight. (Can anyone call 1 to 6 AM an adequate night's sleep?) We rendezvous with Justin and step lively to be sure to arrive on time. During the subway ride to Jamaica Pond, I try to compose in my head my 10-minute speech before the walk starts, but activities on the T distract me, and I can't compose even one logical sentence. Since I'm last on the program, maybe everything important will have already been said and I can just summarize.
When we arrive at Jamaica Pond along with about 200 others, including many family members and friends, we can see that the Foundation staff has the walk logistics well organized for ceremonies to begin at 9:30. Still no speech in my head, because every time I turn around, someone stops me to talks. Oh well. I'll just have to wing it. Dr. Jeff Szymanski, Executive Director of IOCDF, opens the program, followed by Dr. Sabine Wilheim, Director of the OCD and Related Disorder Program at MGH, and then Dr. Katharine Phillips from the Rhode Island Hospital BDD Program. By the time it's my turn, the crowd has learned a good deal about OCD and Related Disorders, especially about Nathaniel's nemesis, BDD. Good. These professionals know brain disorders inside out and share candidly about their devastating impact on families.
Several minutes before I am to speak, the wind picks up, letting us know that the tropical storm is over and that the walk will be spared. Perfect. Prior predictions had not been so favorable. Oh, no, it's my turn. I handle the mike uncomfortably, unable to juggle it and my few notes (three sentences on three separate pages). I'm not sure I remember what I said, but it was from the heart and I trusted that the words would flow. 10:00 arrives and it's time to start walking.
Tremendous energy is generated when many folks gather for a single purpose. As we walk, I use the opportunity to visit and talk with other participants. Signs on the side of the path give poignant descriptions of the various disorders, and a group of us stop in front of the BDD sign.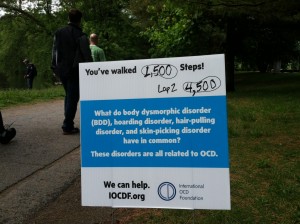 I'm thrilled that at least for this moment in this corner of Boston there is a written proclamation of the disorder that tortured Nathaniel for so many years. We've made some progress.
As we process the day's events later that evening, Judy and I affirm how being together with friends, families, and suffers of OCD and BDD builds a critical sense of community, and breaks the isolation that these disorders cause. One BDD sufferer confided to us at the walk that hearing Katherine Phillips and Sabine Wilhelm talk about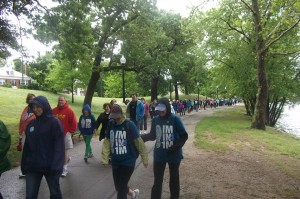 BDD removed the personal stigma of the disorder. How huge is that? Sufferers of cancer don't have to add personal shame or guilt to the trauma of dealing with the disease, but sufferers of brain disorders often do. Collectively, we can and will eradicate that stigma.
Thank you, friends, for following this blog, for contributing many miles and dollars, and for supporting us in this important work.
The Foundation just posted the total to date: nearly $65,000 raised. What a stunning accomplishment!