Planet Earth has circled the sun again, and we find ourselves on the eve of the end-of-year holidays. Thanksgiving, the first celebration, is so universal in nature. It invites everyone to pause and be grateful, and what better way to do so than to gather around the table where nourishment and conversations take place. In the spirit of Thanksgiving, let me say how deeply grateful I am for your friendship and support. Like you, I share an enduring love of and commitment to human values that transcend time and space.
Unfortunately, the last few months have been defiled with too many words of hatred and exclusion. We witnessed racism, bigotry, misogyny, untruths, and hurtful comments directed at Muslims, African Americans, the disabled, the LBGTQ community, women, the uneducated, immigrants, etc. Such disrespectful discourse is always unsettling. It does not hold our country high as a model of democracy. I say this not as a political statement, but rather as a humanitarian who strives hard to find common bonds and connections among people, regardless of color, race, gender, sexual orientation, or personal beliefs.
Let me return to the Thanksgiving table, the place where communion and connection take place annually. This Thanksgiving and holiday season, I'm going to work extra hard to be a good listener to those with opposing views. Nathaniel always advised me to take the high road when facing conflict and discord. That said, let me add that I love this country—a place where all are welcome. Everyone must feel safe to flourish. Our knowledge of the brain's working tells us that sophisticated thinking collapses if fear occurs. No one should ever feel afraid to be who he/she is in the family and in local and national situations.
Therefore, I pledge wholeheartedly to act with courage and grace. If someone's rights are threatened or menaced, I will not stand by idly but will intervene. I also want to repair the tattered bonds that unite us rather than to fray further the remaining treads. There is much work to be done by all, and it is accomplished through acts of bravery one at a time.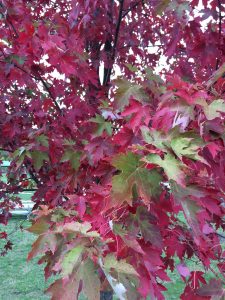 I recently wrote to a close friend to wish her a Happy Thanksgiving. Like us, she lost a son several years ago. Judy, Carrie, and I know well the pain she feels when the holidays come around. It can be a fragile and challenging period. Heavy hearts wounded by severe loss can never be what they used to be. But we can still be grateful! I reminded her that the word for "gratitude" in French is "reconnaissance," literarily translated, "the knowing again." The etymology  of the word suggests that when we are grateful, we know and appreciate again that which we once knew but somehow forgot over time.
During this contentious presidential campaigning season, we frequently forgot our sense of decency, honor, and integrity. Who wants to inhabit a nation without these inspiring qualities? However, on Thanksgiving and during the winter holidays,  we get many opportunities to recalibrate ourselves, a kind of virtual re-membering—the putting ourselves back together again—through the transformative act of gratitude.
I'm also betting that, in addition to the realignment that gratitude brings, we will also benefit from the gift of integrity—a kind of wholeness (what the word integrity actually means)—a state where mind, body, heart, and spirit (not just sheer raw emotions) can work in tandem harmoniously.
In this safer place of wholeness, I wish you all A Happy Thanksgiving and the best of holidays! Blessings on you!