The time allotted for sleep seems to be getting shorter and shorter. Late night blogging and early Camino office hours are burning the candle at both ends. Regardless, the journey must continue, and therefore, I'm on.
This morning the Grady/Farquhars prepare a robust breakfast for my long day ahead, a good thing because there is no lunch until 4:00 this afternoon. Mary Grady joins me on this segment.
Mutually, we decide to head to Catholic University with an interim stop at Rock Creek Cemetery. Obviously, we both have Saint-Gaudens's statue of Grief on our minds.
Walking along Piney Creek Road is refreshing in the early morning. We are definitely having more fun than the commuters edging their way to offices by car throughout the District. A couple of wrong turns getting to Rock Creek help us appreciate even more the Adams Memorial sculptured by Saint-Gaudens in 1891 in memory of Henry Adam's wife. What a stunning piece of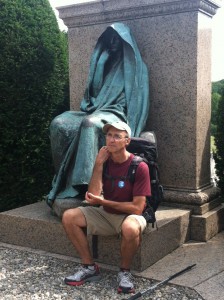 sculpture.
A moment of silence seems appropriate given the nature of my pilgrimage and its purpose. Then I decide to tuck into the folds of the sculptured veil of the statue the small river rock that Carrie and I took from the Pemigewasset River in Lincoln, NH the weekend before the walk started. In pilgrimage tradition, a walker carries a stone from his place of origin and deposits it along the path when the "right" place moves the walker to do so. Raised in Lincoln, I wanted a stone from the New Hampshire woods. Both Nathaniel and Carrie loved the magic of this small
New England town nestled in the White Mountains where their grandparents lived. At my brother Robert's burial in May, Carrie and I fished the rock out of the local river knowing that Nathaniel would love its unique qualities. It definitely was a Nan Rock. Saint-Gaudens would wholeheartedly approve the choice of its new resting place along the 
Camino de Nathaniel South. I say goodbye to Mary on the Catholic University campus and go to the first of my  two appointments there–The Alumni Center and The Student Counseling Center.
My undergraduate Alma Mater welcomes me graciously. I leave the Alumni Center with a bag of gifts. More weight for the backpack? I then hurry to the Counseling Center where Monroe
Rayburn greets me for our noon meeting. I talk about Nathaniel and he talks about counseling services at CUA. The 5% BDD rate among college students is sobering. If the number is accurate, then we have lots of work to do on campuses to raise consciousness.
Upon exiting the center, I hear the 1:00 chimes from the Basilica tower. Time to meet cousins Anna and Cindy in front of its grand entrance. Together we head downtown to the AFSP headquarter (American Foundation for Suicide Prevention). Twice today I am accompanied to my destinations. How sweet!
At AFSP, I meet Nicole Gibson, State Advocacy and Grassroots Outreach. She and I talk about our calling to advocacy, both motivated by a huge personal loss in our lives. I wish Carrie could spend an hour with her  sharing the heartbreak of losing a sibling through suicide. Nicole knows how that feels. She shows me a picture of her brother, and I reciprocate with one of Nathaniel. Both young men deserved to live full lives.
At 4:00 I eat lunch or "First Dinner" at Au Bon Pain. Temporarily refueled, I turn off the GPS and hop on my first public transportation ride in weeks, the DC Metro (Yellow Line) to Alexandria where my niece Kendra and her husband David (and daughter Emily) will
feed and house me. "Second Dinner" includes a delicious mixed green salad and a Whole Foods vegetarian pizza, my first in weeks. Hits the spot.

Tomorrow I go to Capitol Hill to tell Nathaniel's story. It feels like the end is approaching too fast. I want to savor and relish each moment during the two remaining days. But first of all, I need to get some sleep if I'm to be coherent among our elected representatives. Or maybe coherence is no longer a requirement in politics. I'll see.