The Days After
After Saturday's intensity, we settle into a day in Assisi. Tim and Terri catch an early train to Rome for a flight home on Monday, and we wander the city taking in the churches at every piazza and the medieval architecture everywhere, speckled with Roman columns and friezes. It feels odd not to have our packs on our backs and a destination in mind, and we miss our Cammino companions.
Sunday Mass at St. Clare's is packed, and we try to follow the homily in Italian. I pick up "love" and "San Francesco" about two dozen times. That about covers it.
Midday meal at the Friar's house in Assisi is an elaborate affair put together by Sandro, consummate chef and entertainer. There are 9 of us for a 5 course meal–antipasto with truffles, pasta, veal, pork and potatoes, homemade sponge cake, coffee and all of it topped off with limoncello di casa. Needless to say, we feel no need for much supper later, but do manage to squeeze in a gelato before attending a free concert in the crypt of St. Rufino. Five very talented musicians with perfectly blending voice and playing various medieval instruments present 12th and 13th century music from the time of St. Francis.
The following morning, we head back to the Basilica to see the Giotto frescos which we missed the day before. The entire interior of both upper and lower churches of the basilica is covered with frescos framed by ornately painted arches and vaults, making the whole building one enormous painting.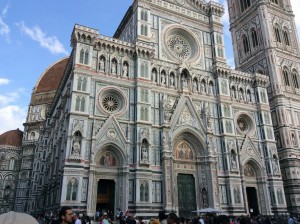 Today we head to Florence, and then Cinque Terre, before going home on the 10th via Dublin. But before we leave Assisi, our last stop is St. Mary of the Angels Basilica to receive our official pilgrims' certificates. Pilgrimage complete, we re-enter the everyday world full of gratitude for the chance to visit this beautiful country, for the warm welcome we have received everywhere, for our legs which took us the whole way, and for our families and friends–especially Tim and Terri–who shared the journey with us. 10/06/2015